Sleep Dentistry In Colorado Springs, CO
Sedation dentistry is a method of dentistry used to help relax a patient while undergoing dental treatment. Sedation helps to get ALL of your dental treatment done in one visit.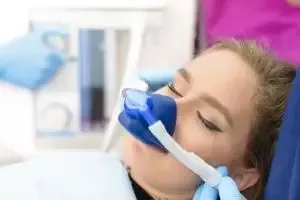 What is Sleep Dentistry?
Sleep dentistry involves sedation that is used during your dental appointments to help relax you and keep you stress free. Sleep dentistry is ideal for patients who have fears and phobias of the dentist and who forgo treatment because of this anxiety. Dr. Buccellato uses a non-IV sedation alternative that is safer, less expensive and still just as effective at keeping you calm during appointments. Sleep dentistry can be utilized by patients of all ages and medical needs.
Why might you want Sedation Dentistry?
If you have been putting off going to the dentist because of anxiety and fear, it's time to utilize a different option. Sedation dentistry can make your visits with us less fearful so that you can have necessary work done without having a panic attack in the process. Sedation dentistry is ideal for kids and teens who might show severe anxiety before and during their appointments. Some of the reasons you way want or need sedation dentistry include:
• You have anxiety over visiting the dentist • You forgo dental appointments because of this fear • Your children show severe anxiety over going to the dentist • You or your child is special needs and has a hard time sitting still in the dental chair
What makes you a candidate for Sedation Dentistry?
Sedation dentistry is safe for most patients and can be a great alternative to traditional IV anesthetic. To determine if sleep dentistry is right for you, it's important to come in for a consultation with Dr. Buccellato. Together, we can determine the best type of anesthetic and when to use it for your dental visits. Our goal is to create a warm, welcoming and calm environment for every member of your family.
What can you expect with Sleep Dentistry?
We do not use IV sedation on our patients, so you can expect an easier and safer option when compared to IV anesthetic. Before you come in for your appointment, we can discuss your anesthetic options with you so that you get to choose what you want or need. You can make use of this option during any type of procedure where you feel scared or uncomfortable. You are in complete control over the type and level of sedation that you receive. We will keep you comfortable at every step of your appointment. It is important that you have a loved one bring you into the office as well as back home when receiving partial or general anesthetic.
Contact Us
If you're interested in the benefits of sleep dentistry, please reach out to our team at Alpine Dentistry. We are here to help. Use our online form or give us a call at (719) 536-0599.