Clear Aligners In Colorado Springs, CO
Aligners are thin, clear trays made to fit your teeth in order to straighten them. Unlike metal braces, aligners are removable.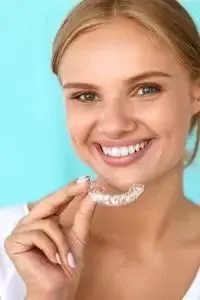 What are Clear Aligners?
Clear aligners are an orthodontic alternative to metal braces. With Clear Aligners, you are able to have your teeth permanently straightened without anyone knowing that you're even wearing an orthodontic appliance. These clear plastic trays apply pressure to the teeth, forcing them into a more uniform line. Clear aligners offer quicker and more convenient straightening than traditional braces.
Why do you need Clear Aligners?
This orthodontic option is ideal for patients who have crooked, misaligned and crowded teeth. For patients who have malocclusion issues, like an overbite or under bite, Clear Aligners can help as well. If you have ever been told by a dentist that you would benefit from orthodontic treatment, Clear Aligners are an easy, effective option. This alternative to traditional braces is great for patients of all ages and is especially advantageous to adults who want to straighten their teeth but don't want metal wires and brackets.
What makes you a viable candidate for Clear Aligners?
While Clear Aligners are suitable for most patients, they may not be for every patient. In some cases, you may need additional orthodontic treatment prior to being fitted for the aligners themselves. To determine if you're a good candidate for this treatment, you'll need to come in for a consultation with Dr. Buccellato. Together, we can determine the best treatment for you and a payment plan that works for your budget.
What can you expect with the Clear Aligner procedure?
The Clear Aligner system is a series of multiple trays rather than just one. You will first come in to have impressions, scans and images taken of your teeth. The impressions are sent off so that aligners can be made for you. It is important that you wear the aligners for at least 22 hours each day so that they effectively begin to straighten your teeth. You will need to come back into the office every few weeks to have new impressions and trays made to wear. After treatment is complete, it is important to wear a retainer to maintain your results.
If you're interested in Clear Aligners and what they can do for your smile, contact us so that our helpful staff can better serve you. Call (719) 536-0599.