Alpine Dentistry provides dental services to residents of the Colorado Springs, CO area with a reputation for unmatched customer service and attention to quality products. Whether you are a new patient or have already established a relationship with the practice, you can be assured that the staff will make your experience comfortable and successful.
Alpine Dentistry has products for the services you need to restore your smile and support your specific dental concerns. By browsing the dental product catalog, you can discover more about the types of products the dental office has to offer.
---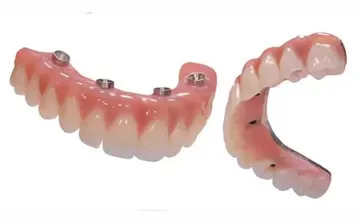 Click the image to learn more about All-on-Four!
Another alternative for traditional dentures is an all-on-four denture. Like anchored dentures, all-on-fours require dental implants to stabilize the prosthetics into the mouth. The significant difference is that all-on-four dentures attach permanently to the implant and do not have to be removed daily. Each jaw receives four full-sized dental implants, and the prosthetic teeth plate attaches using corresponding devices. This type of procedure allows the new teeth to look and function the same as natural teeth.
---
Similar to a stay plate, a cast partial denture allows you to replace missing teeth with prosthetic versions while still maintaining most of your natural teeth. A cast partial denture is designed to replace missing teeth in one quadrant of the mouth only, attaching to the adjacent natural teeth. If you lose more teeth in the future, switching to a larger stay plate or adding teeth to a cast partial denture is an easy transition.
---
Patients who need tooth replacement after extraction have several options. When you need full teeth replacement, dentures are the most common solution. Dentures are prosthetic teeth and gums that attach to the gums and bones in the mouth so patients can have the function and appearance of natural teeth. Many different types of dentures are available, but traditional dentures are attached with a type of dental adhesive.
---
A crown is a commonly used device that serves a variety of dental purposes. Crowns are most frequently used after a root canal to protect the natural tooth after the pulp has been removed. They are also used in conjunction with dental implants for permanent tooth replacement. Although crowns can be constructed from several different types of dental-grade materials, they are most commonly made from either metal or tooth-colored porcelain to mimic the look of a natural tooth.

---
Dentists use several different types of mouthguards for dental purposes. Most commonly, mouthguards are used for either sports or to correct teeth grinding at night. These two types of guards cannot be used interchangeably. Custom sports guards fit the mouth more comfortably than stock versions and are used for any sport that risks impact to the mouth. Sports guards serve as a protective barrier for the teeth and protect the soft mouth tissues from the teeth. Nightguards are fitted for patients who have bruxism to prevent enamel damage due to grinding. A perfectly fitted mouthguard is necessary to prevent nighttime appliance slippage.
---
Patients who need to replace several teeth but still have some healthy natural teeth can use a stay plate as an alternative to dentures. A stay plate consists of a partial denture with prosthetic teeth only located in the areas of the patient's missing teeth. The remaining portion of the denture has custom-fitted openings that allow you to use your own natural teeth. Stay plates are sometimes also called dental flippers.
---
Implant Abutment & Crown, All Inclusive

Dental implants are a popular tooth replacement choice due to the realistic and highly-functional results. An all-inclusive dental implant and crown procedure involves several steps over a longer period of time than other solutions. Still, it results in a permanent single-tooth replacement that works as well as a natural tooth. A specialized metal implant is situated inside the bone at the missing tooth location. Once the implant has healed, a custom crown that mimics the look of your natural teeth is attached.
---
Patients who prefer a denture that snaps into the mouth instead of locking with adhesive may consider a snap-in anchored denture a more suitable choice. For this type of denture, typically, two small dental mechanisms per jaw are implanted into the jaw bone. The dentures lock in by using coordinating snaps that fit inside the miniature implants. Anchored dentures allow greater freedom in food choices since they are less likely to become dislodged.
---
Corrective dental services have advanced greatly over time. Alignment concerns that once required the use of metal braces can often now be corrected by clear tray systems. ClearCorrect is a subtle alternative to orthodontics and typically has a shorter total wear time. You can remove the trays when eating and at night without inhibiting the results.
---
The dental products used and procedures performed by Alpine Dentistry are selected to provide the best care for every patient. Skilled and experienced professionals complete routine, restorative, and cosmetic procedures, so you can find reassurance that your dental well-being is always the first priority. For more information about dental products or services, contact Alpine Dentistry today.