Invisalign Clear Aligners in Colorado Springs, CO
Your smile is one of the first things people notice about you. That makes a lot of people immediately self-conscious about the state of their mouth. At Alpine Dentistry, our team's goal is to give you the ability to smile with confidence. We do this with state-of-the-art equipment and methods to straighten, enhance, and care for your teeth. Our gentle approach is ideal for everyone in your family, from children to adults. You will find our caring, friendly, and kind staff has the answers to your questions regarding treatment options, insurance, and payment.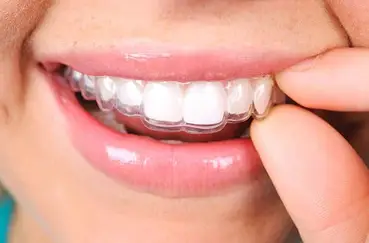 We take pride in offering a variety of choices for straightening teeth, especially when it comes to straightening teeth. While braces are one of the most prevalent options for fixing misaligned teeth, we also offer the more esthetically pleasing option of Invisalign in Colorado Springs.
Get Your Teeth Straightened & Look Good Doing It!
Although they are effective, traditional braces have the drawback of visibility. If you are an adult looking to straighten mild to moderately crooked teeth, then the thought of braces may be daunting when you work with and see a lot of people every day. Invisalign is a less visible alternative that uses clear, custom aligners for straightening teeth. There are several benefits to this option:
Aligners are clear, making them less noticeable
You can remove aligners for eating and brushing your teeth
Results may take less time than braces
You can still eat your favorite foods during treatment
How Does It Work?
Aligners straighten your teeth by applying constant force to guide them into the desired position. While braces use brackets and wires that require regular tightening, aligners can simply be popped on over the teeth. Ultimately, this means you do not need to come into our office for as many visits, and there is also less of a chance of your apparatus breaking and requiring repairs.
There is a specific process involved with an aligner regimen. Our team will walk you through each step and answer any questions you have along the way. Generally, you can expect Invisalign to include the following:
Initial consultation: Dr. Brian Buccellato will meet with you and assess the state of your teeth. Our team will explore the pros and cons of a few different choices, including the Invisalign cost of treatment. If you decide that Invisalign is how you wish to proceed, we'll take the next steps.
Aligner measurements, creation, and fitting: The aligners are custom made for every patient, so we will probably take some images and measurements of your mouth for your tray design. You will need to wait for the aligners to be made before trying them on. When they are ready, we will help ensure the first one fits properly before you leave our office. We will also educate you on how to care for your appliances and schedule your next follow-up appointment.
Wearing: To ensure optimal results during treatment, you must wear the aligners for at least 22 hours a day and only remove them for eating or brushing your teeth. The trays are designed to slowly guide your teeth into the designated alignment, so you may feel the pressure of this at first with each aligner.
Transferring to the next aligner: Invisalign involves using a series of aligners, and many patients go through anywhere from 20 to 30 trays over the course of treatment. Each tray is worn for up to two weeks, depending on what Dr. Buccellato instructs you to do. After completing your seven to 14 days, you will switch to the next aligner in the series, moving the teeth closer to the final goal.
Assessment of teeth location: Our team will check in with you periodically throughout treatment to oversee the progress of your teeth. After finishing with the final tray, we will assess the location of your teeth and determine if any other trays are needed. On average, aligner regimens tend to last for around one year.
Retention: If no more orthodontic appliances are required, Dr. Buccellato will discuss retention with you. Retention is the plan for maintaining the teeth in their new location, which can involve the use of a retainer. While some retainers are permanent, you might only need to wear yours temporarily. In most cases, it is recommended that you wear your retainer for as long as you wore your aligners.
Every patient is different, so you may not require the same number of trays or the same length of time as another patient. While many adults prefer aligners for straightening teeth, we are also happy to offer this service to teenagers who qualify for treatment. To qualify for treatment, patients should be suffering from a mild to moderate malocclusion and be able to wear each appliance for the required number of hours each day. If you suffer from a more severe malocclusion or bite, we may explore other treatment options with you.
Why Choose Alpine Dentistry?
At Alpine Dentistry, we take pride in customizing dental treatment to each patient's needs. We will provide you with the most technologically advanced service with a gentle touch and a friendly smile.